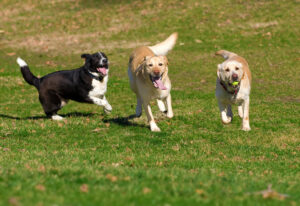 From season regulars to brand-new faces, our facility welcomes all kinds of canine companions across El Paso County! Whether it's your first time trusting us with your dog or a routine drop-off for the weekend, keep reading for how to prepare for boarding with Jackson Creek Kennel.
#1: The Boarding Basics
In order to successfully board your dog, we'll need information about your dog AND you, the dog owner! Here is some basic yet required information you'll need to have on hand:
For the Dog Owner:
Name (First, Last)
Address (City, State, Zip Code)
Contact Information (Email Address AND Phone #)
For the Dog:
Dog's Name
Breed
Age
Weight
Male/Female
Spayed/Neutered
#2: The Boarding Specifics
Following the basics, come the specifics! We understand that every dog is different and has individual needs, so the more details we have about your fur baby, the better. Here's what you can expect us to ask from you:
The dates of drop off and pick up with your preference of AM/PM
Your Veterinarian's name and phone number on hand in case of any emergencies
A list of medications your dog is currently on, as well as the medications in their original packaging
Your dog's food brand and feeding instructions (daily rate, quantity, etc.) – be as specific as possible so we can keep your dog's routine uninterrupted!
Your dog's history, behavior, and/or current issues – we want your dog to be comfortable and accommodated during their stay, so knowing more about their personality and behavioral tendencies is a big plus! (Examples: You are boarding two dogs with us and they are a bonded pair, your dog has separation anxiety, is reactive/sensitive to sound, etc.)
Any additional information you would like us to know!
#3: What to Pack
While the information above is what you'll need for the online boarding form, there are still some things you'll need to pack for your companion's stay!
A resealable container filled with enough food for their stay + a little extra
A collar + leash – please no chains or pinch collars!
A copy of vet records, plus immunizations
A pad/blanket that is not fiber or foam-filled
And that's it! If you have any questions about the boarding process here at JCK, feel free to contact us. We're ready to host your dog this holiday season and beyond!
Jackson Creek Kennel is here for all of your dog boarding needs in El Paso County! Contact us today at 719-661-2020 to learn more about our breeding, training, and hunting services.