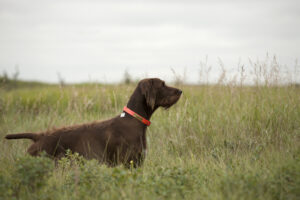 Training a dog is no easy feat, but training a new Pudelpointer puppy requires some pointers… no pun intended! Keep reading for tips to keep in mind while training your new pup from Jackson Creek Kennel!
1. The Earlier, The Better!
Along with the standard potty training, manners, and daily routine, a Pudelpointer puppy should be exposed to live animals and outdoor settings to start building their hunting instincts. This is best in short bursts, just like any other behavioral training session, so plan for a couple of outings during the day to give your puppy new, easy stimuli. They'll be the best partner for fetch, with a bumper AND with a hunt!
Important: Make sure your puppy has completed ALL rounds of vaccinations before going outside on a routine basis.
2. Socialize, Socialize, Socialize
Here at JCK, we prioritize socialization for our Pudelpointers and our boarded dogs, as well. As a matter of fact, a well-socialized puppy will make for a less skittish, nervous adult dog in the future, which is why it's important to expose your Pudelpointer pup to other dogs in addition to the game they'll be hunting later in life. If dog parks are not your speed, try taking them to busy areas for a walk for an array of sights, sounds, and smells to experience.
3. Stay Consistent!
You know what they say… a puppy is like a child! Staying consistent and on track with a daily routine, training schedule, food schedule, proper nutrition, and sleep is vital for your new dog. For a Pudelpointer, make sure there's consistency in helping them grow their pointing and retrieving skills – it's in their blood!
Looking for a Pudelpointer puppy in El Paso County? Jackson Creek Kennel is here for all of your Pudelpointer needs! Contact us today to learn more about our full range of services.