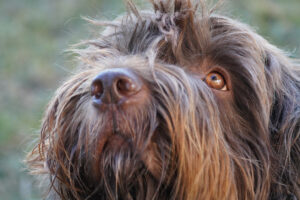 If you couldn't already tell, we love Pudelpointers here at Jackson Creek Kennel! There are several reasons why a Pudelpointer makes an ideal companion for your family and or recreation needs, and we're here to give you the rundown. Keep reading for what we adore about Pudelpointers and the characteristics you can expect your Pudelpointer puppy to inherit!
Energy & Activity
The Pudelpointer needs daily exercise in order to thrive! As a hunting breed, their home is the terrain they get to run and roam through, such as fields, plains, and especially water! Like any dog, Pudelpointers love walks and playing fetch. Finding different ways to keep your dog active is in its best interest. When the cold winter season is on the horizon, transitioning your Pudelpointer to indoor activities with occasional outdoor excursions is best. But don't worry, they can definitely handle the chills of snow!
Health & Longevity
The Pudelpointer originates from Germany and is praised for being a driven, generally-healthy dog throughout its lifetime. As they are a cross between a Pudel and Pointer, it is important to look out for hip dysplasia and epilepsy, which are usually noted in genetic testing by a trusted breeder like us at JCK! Quality food and an appropriate diet ensure the Pudelpointer stays in tip-top shape as well. The fact that Pudelpointers are naturally active and agile contributes greatly to their longevity. It makes complete sense how they rank so high in performance tests on a global scale!
Hunting & Recreation
Known for their driven nature out in the field and in water, Pudelpointers are perfect for hunting game birds! With a sensible nature in the home and playful energy outdoors, Pudelpointers can be trained as gun dogs and routinely field-tested for optimum hunting performance through the NAVHDA. The Pudelpointer has shifted from a rarity to a main breed, and here at JCK, we maintain the status of this awesome breed through our breeding, training, and hunting services.
Pudelpointer Dogs at Jackson Creek Kennel
Looking for a Pudelpointer puppy in El Paso County or the Southwestern U.S. region? Jackson Creek Kennel is here for all of your Pudelpointer needs!
Contact us today to learn more about our full range of services.